[ Home | Staff & Contacts | HiFi Playground | Listening tests | DIY & Tweakings | Music & Books ]
TNT-Audio turns 10
and celebrates during 2005 Rome High End Show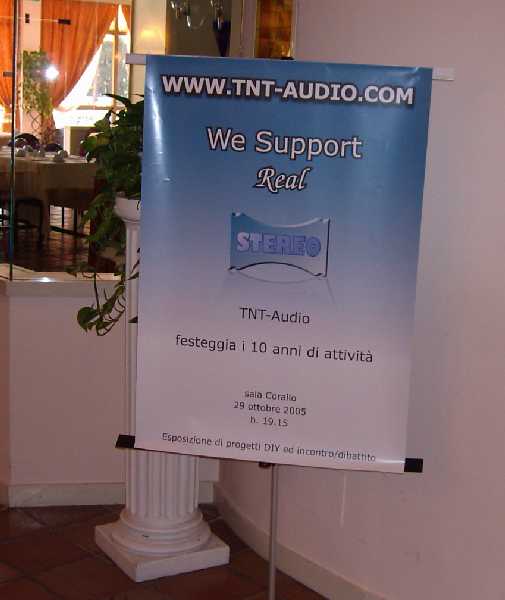 [Italian version]
Finally, the time has come! Saturday, October 29th, 2005, 7 p.m., Corallo Hall, Jolly Hotel Midas in Rome!.
It is one of the widest halls at the show, the one where traditionally can be found the exhibition by Audiomani, importer and distributor of stuff whose names come with lots of memories (SAE, GAS, Garrard) or sporting innovative characters (Eichmann). But, like it often happens in this little world, the company is much like a one-man band, behind which you can find a real person: in this case, it's someone who acted a primary role in much of the past Italian life of Hi Fi, which he certainly deeply knows. It is at least interesting that, in spite of his not few seasons (or, rather, just because of them), it was actually one of the most ancient players of this notoriously traditionalist sector who decided to host, in the heart of one of the most "fundamentalist" show, an event regarding something uncommon and innovative like a telematic, independent and certainly unconventional magazine.
Our first thanks must, then, go to Leonardo Mani, who promptly made his own exibition space available for this "event"; naturally, a thank-you also goes to Stefano Zaini, the show organizer and host, who allowed us to do so "at his home".
So, let's go toward the hall. There you can see known faces, even from the "official" press, although - I guess - they are here, before than being colleagues, to nurture the relationship between the persons: and so there you see S.Monteferri, former TNT-Audio's staff, and R.Rocchi, of Suono magazine's fame, whose photo I will save you from, sure of his agreement :-)
There also is a very distinct gentleman, respecting whose understatement we will limit to give him a heartfelt thank-you to have shown the way (yup, it ain't only JGH!). But you can also see unknown faces, that finally can substantiate several nicks, now familiar to the participants of TNT's mailing lists.
Obviously, the hall sports the usual exibition furniture, nicely showing audio gear. But, then, there are two more tables.
On one there have been placed practical realizations made from the DIY projects published on TNT-Audio, like the TTS, the Merlino, the Munis, ecc. including an upcoming DIY carbon-fiber unipivot tonearm (hear hear!) named TNT LongaManus (stay tuned for the "hot" upcoming article)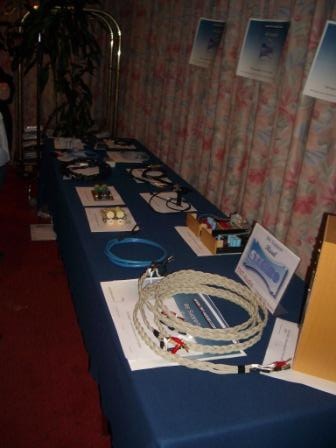 On the other table are placed foods & spirits (fine Italian wine), kindly provided by the attendees. Among both DIY exhibitions, I undoubtably assign the first prize to the latter, and I'm backed by the strong success accorded by all the participants :-)
People keep arriving. In the meanwhile, Lucio gets interviewed by a TV reporter.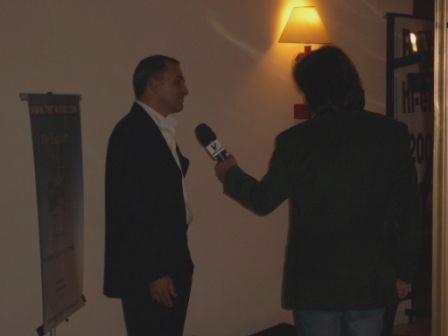 All right, it's Sardinia's Videolina TV station, so Lucio plays "home"; anyway, it's a channel that can be received nationwide via satellite... Moreover, when was TV ever interested in audiophiles? Rather, to one of their sub-groups: TV reporters weren't here for the show, they came here just for TNT-Audio 10 years...
Ok, interview is over, it's seven p.m.. It's time, the hall is full, almost crowded. C'mon, let's go!
Lucio proceeds to the center of the scene and starts his show.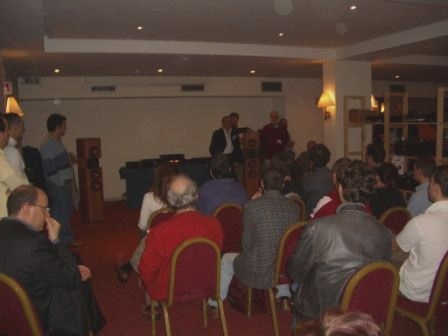 Memories start flooding. The beginnings, the first contacts via e-mail and via the first BBSs (there wasn't the Internet, yet)! Then, among the development of the Web (and of the first browsers - Lucio spoke about Mosaic...), there were the first personal pages, divided for each of the -multiple- interest of Lucio: cars, race bicycles, Hi-Fi... But... Hi-Fi pages were the one that started to be more successful, in terms of hits and feedback. It was time to better organize them.
Briefly, the magazine substantially reaches its actual shape. Lucio keeps speaking, explaining that since then he - now we can say he was wisely looking far - was convinced that articles had to appear in English, to be internationally relevant; suddenly, articles written directly in English surpasssed the ones in Italian, and a double version of the site was developed (with the praised co-operation of a now big group of translators, among whom I immodestly partecipate). The rest takes us to our days.
All is seasoned with the fundamental characteristic of TNT-Audio: total independence, firstly economical, due to the deliberated lack of advertising; but also intendend as complete irrelevance of every possible external pressure, even the one that could come from the readers, that is the reason for which it's ten years that we can read our magazine without spending a damn cent. Actually, says Lucio, the whole game is played by a dirty dozen, who does it for the pleasure of doing it, and who will keep on doing it until it is fun. That's it.
That rapid scrolling of memories was accompanied, in Lucio's words, by mentions and thanks toward his various collaborators. Actually, Lucio wanted to underline the spirit that moved the whole TNT-Audio adventure using the words of one of his most ancient collaborators, that Mimmo Cacciapaglia whose Flexy table was the first TNT's DIY project internationally acknowledged and copied (even commercially); I'd like to report a spot from the letter he wrote to Lucio for this occasion. Mimmo says: Lucio "has been a real revolutionary no-global: not a guerrilla black block without a cause, but a fast, efficient and no-frills intellectual, who took advantage of all the global instruments to build a web, that was, too, global, made of "not-in-lined" people. This, I think, is the biggest gift that TNT could give to his readership during all this years: the push for the not-homologation. In the world's history there has been just one big division: who cultivated, evolved and prospered; who made a living only by hunting, has extinguished or is going to. Should we place it in this history, TNT played the role of the seed spreader, whose fruit anyone picks and uses in his own way."
After that, followed an (expected) digression about the T-Amp. Lucio explains that he certainly was not the one who "discovered" it, but that, certainly again, it's after his review that the dwarf's demand raised at such an high rate that left unprepared even its producers, that were also totally unaware of what was going on on the audiophile territories. Lucio's words now focus on the real relevance of this little amplifier. In absolute terms, he precises, it's not to be seen as a menace for the high-end amplis; it's role is rather to provide - to who is not primarily moved by the quest for sound quality - an alternative that sports ecumenically appreciated characters (it's small, it has low power consumption and it certainly looks more attractive than a big black box...) and also allows itself to be well-sounding, thus tickling otherways absent interests or, at least, waking up the sleeping ones.
Finally, a look at the next things to come: first, another lightweight little box that acts as an input selector (phono included!) and volume control, that can be powered via the same power supply that feeds the T-Amp; then, a DIY unipivot tonearm sporting a carbon rod, a project by Giorgio Pozzoli, who also was present and ready to illustrate its theoretical basis and its realization procedures. They are both a work in progress, but, since we all could saw and touch them, they can realistically be considered in their final phases, so...stay tuned!
Well, it's now half past eight, the hotel already closed the exibitors' booths and our stomachs are gruntling... the evening found its natural convivial conclusion, readily organized on-the-fly from the attendees (thanks, Alessandro!),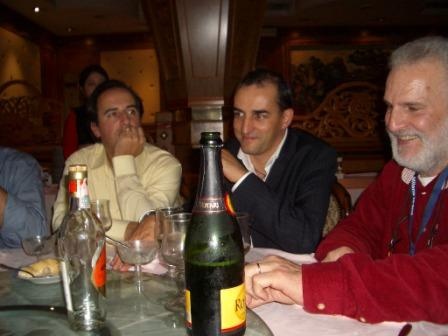 [From left to right] Elia, Lucio, Leonardo and...alcohol :-)
In conclusion, it has certainly been a pleasant evening, when we could gather and meet old friends and new persons, to unite us around our common point and, lately, to thank and - why not? - to celebrate Lucio and his TNT-Audio, for the work he has done and - hopely - will keep doing.
Copyright © 2005 Carlo Iaccarino - www.tnt-audio.com
[ Home | Staff & Contacts | HiFi Playground | Listening tests | DIY & Tweakings | Music & Books ]